Thank you Brolifen
Patreon Feed
Posts: 392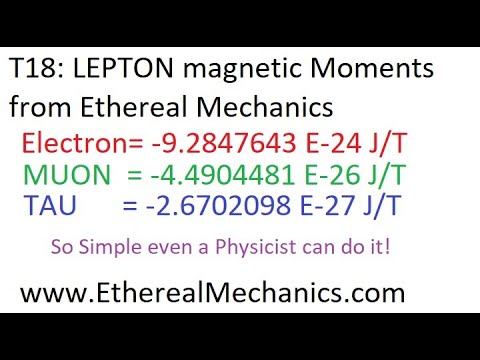 Patreon Member Brolifen noticed something that I missed. It is a remarkable connection (see his original message below)
The "Fudge Factor" that I generated in the Lepton Magnetic Moment Video correlates to the Fine Structure Constant (FSC).
The Fudge Factor is equal to 1/(2*FSC).
I developed the Fudge Factor by dividing measured result by the results obtained from the calculations.
The curious problem is to explain why the measured magnetic moments are 68 times larger than expected. Because it is not possible to measure the magnetic moment without altering the magnetic moment, I suspect that a good portion of the mismatch is a measurement error.
Because of this connection, it pays to understand how they came up with the fine structure constant and see if that is meanigful to us.
Thank you all.
From Brolifen:
Going back to this video and on this timestamp: https://youtu.be/Pvf7GdEvzaE?t=1233 I noticed something very interesting about your so called fudge factor. It is highly correlated to the "fine structure constant" in physics! Which is currently measured at 1/137.035999046 whereas the value you present is exactly half of its denominator.
I don't know how you came up with this fudge factor but I believe that's quite a big coincidence that may lead to some big insights. As this constant in physics is so fundamental that it has no units and some call it the most important constant of nature.

Patreon:
https://www.patreon.com/posts/thank-you-69467138